Distracted driving is one of the biggest threats to roadway safety in Colorado, causing thousands of crashes each year. Traditional distractions such as passengers, food, children, and roadside visuals continue to distract drivers while handheld phones have further exacerbated the issue. According to the 2018 Traffic Safety Culture Index from the AAA Foundation, over 95% of drivers in the United States view reading or typing a text/email on a hand-held cellphone while driving to be very or extremely dangerous. Yet, in a 2019 survey of Colorado drivers conducted by the Colorado Department of Transportation (CDOT), 91% of Coloradans admitted to driving distracted.
In 2018, 15,285 crashes on Colorado roads involved a distracted driver. This amounts to nearly 42 distracted driving-related crashes per day, yet drivers continue to ignore the danger. Sadly, distracted drivers don't see the risk in their behavior until it's too late
Unlike other dangerous driving behaviors, there is no stigma associated with driving distracted. While nearly all drivers admit the perils of driving distracted, there is nothing really stopping them – in part due to a lack of social pressure or outward disapproval. So in 2020, CIG set out to change that.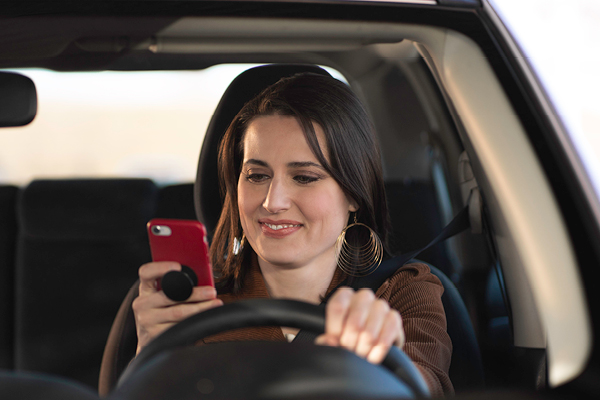 In a 2019 survey of Colorado drivers, 91% of Coloradans admitted to driving distracted.
CIG dug into psychological research to help guide the development of a campaign concept that would be not only engaging but also rooted in the science of behavior change. The campaign's goal was to create and elevate a social stigma associated with distracted driving in order to reduce instances of the behavior and related crashes on Colorado's roads.

"Distraction Reactions" was conceived as a result of our research on the phenomenon of emotional contagion — a process in which one person's emotions and related behaviors trigger similar emotions and behaviors in other people. By creating stigma and changing the social norm of distracted driving, our hope was that people would feel a greater sense of disapproval from others and consequently change their behavior.

Knowing that the reaction of others can be a powerful deterrent to negative behavior, campaign creative was designed to establish this stigma and beg the question: if drivers saw how others reacted to their distracted driving, would they change their behavior? By capturing expressions of disgust, horror, shock, fear and disapproval, campaign ads emphasized to drivers that distracted driving is not tolerated by their peers and others on the road.

Campaign tactics included a slow motion video that aired in English and Spanish on YouTube, Facebook, Instagram, Snapchat, CDOT's website and gas station TVs across the state, as well as radio PSAs, digital ads, earned media and custom coffee sleeves in more than 65 popular coffee shops throughout Colorado.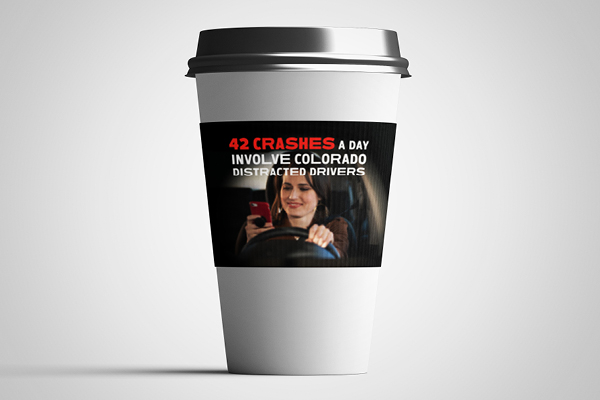 Earned media efforts surrounding the campaign resulted in 25 stories across broadcast television, print and online media, yielding nearly 2 million impressions, more than 275 organic social media interactions and an estimated publicity value of $32,600.

Paid media placements, including the video, radio, digital and social media ads, and coffee sleeves, produced a total of more than 5.7 million impressions. There were 424,000 views of the Distraction Reactions video with nearly 90% of viewers watching the video in its entirety without clicking out.

Following the first year of the campaign, CDOT asked CIG to evolve "Distraction Reactions" for continued use, commenting that the campaign struck the needed balance between engaging and captivating, while also giving urgency to the issue.
Paid media placements produced more than 5.7 million impressions.
© Communication Infrastructure Group 2023